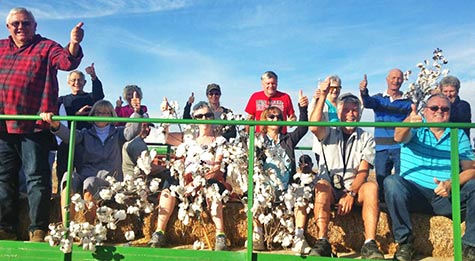 Reservations Required
All tours are based on reservations; please book online (by clicking green button above). Alternatively, you can call us at 520-560-1119 for our current schedule, for more information or to book a tour.
Tour Season
The tour season runs from October through May. Some weekends are included (call for details). Cotton may not be in the fields after mid-February, but there still will be plenty to see!
Other Details
Cost: $15.00 per person
Tours begin at 1:00 and are 2-1/2 to 3 hours in length.
Group reservations are welcome.
Weather and/or field road conditions may cause a tour to be cancelled
Single restroom is available
The weather may be warm, so please bring sufficient water
For more information about our tours, please visit our Cotton Farm Tours page.